RED HENRY
Red Henry has played mandolin, banjo, fiddle, and guitar since the 1960s. He and his wife Murphy made their living for many years playing bluegrass full-time, and they recorded a dozen band LPs and CDs.
Since 1982, Red and Murphy have taught several thousand people to play with their extensive and successful "Murphy Method" series of bluegrass music-instruction tapes and DVDs, marketed worldwide.
Red has helped judge many contests over the years, including the prestigious national music championships at Winfield, Kansas, the Maryland State Fiddle Contest, the Shenandoah Banjo and Fiddle Contest in Virginia, and the official Georgia State Fiddle Convention. He is always "pulling" for the contestants and hoping that they will play their very best.
ALLEN SHADD
Allen Shadd is a three-time National Flatpicking champion, as well as a past winner of the Merlefest guitar competition, Rocky Grass, the Wayne Henderson guitar competition, and many more. In addition to being a two time GA State Flatpick guitar champion, he is also a past GA State Fingerstyle champion. He has taught at a number of prestigious music camps including Steve Kaufman's Kamps, The Alabama Folk School, and the Swannanoa Gathering.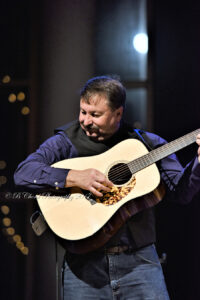 He has performed or recorded with artists that has included Tom T. Hall, Claire Lynch, Jimmy Fortune, Norman Blake, Mark Johnson, Darin and Brooke Aldridge, John Cowan, and many more.He also performed as a member of the Charlotte based WBT Briarhoppers from 2019- 2021 including their induction ceremony into the NC Music Hall of Fame in 2020.In 2021-2022 he performed as a duo with Kristen Holloway. Allen grew up in Florida and lived there for over 40 years before moving to the Carolinas where he has resided since 2005.
Kristen Holloway is a longtime member of the Tampa- based group Gypsy Wind which has been nominated for The Best of the Bay Award. Kristen performs vocals, flute, guitar and is an avid song-writer. She has created and performed music to accompany The University of Tampa's dance department, and has shared the stage with Vassar Clements, Tim and Mollie O'Brien, and Norman Blake.
Allen and Kristen have performed together on stages ranging from the prestigious Belk Theater in Charlotte NC, to the National Flatpicking Championship in Winfield KS. They also recently recorded a video together with John Cowan.
SHARON BOUNDS
Sharon Bounds is a Champion Fiddler from Tuscaloosa Alabama. Sharon has won the Alabama State Championship as well as 4 times Mississippi State Fiddle Champion.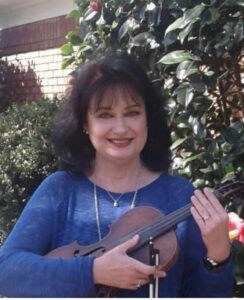 Sharon has placed in the Top 10 of the prestigious GRAND Master National Fiddle on 7 different occasions. She teaches music and has played in several different semi-professional bands over the years.
BILL CUNNINGHAM
Bill Cunningham has been playing music since the age of 12 when he began playing bass at local square dances and on the Georgia Mountain Fair Staff Band with his dad, Fiddlin' Howard Cunningham. Bill began playing pedal steel guitar at age 14. As a teenager he and several other local teenagers formed a country and bluegrass band that played regional shows including one week summer runs at the Civic Auditorium in Gatlinburg where they backed Mac Wiseman, Stringbean, and Barbara Fairchild.
Bill served four years in the Marine Corps and played the local clubs around Cherry Point, NC. After the Marines, Bill settled in the Atlanta area in 1980. Over the years Bill worked in bands with Gerry Hall, Nelson Rogers, Vernon Maney, Tiny Tate, and Jim Wood's Dixie Fried Band. Bill was also Tommy Dodd's sub.as steel player on several major runs of the musical "Always Patsy"
At the same time he has continued as a member of the Georgia Mountain Fair Band and just past 41 years with that group. Over the years the GMF band has backed many national artists including Hank Locklin, Ray Pillow, Jack Green, Jeannie Seeley, Hank Thompson, and Johnny Gimble.
With the 2008 passing of the production of the GMF shows from Fiddlin' Howard Cunningham to Jim Wood, Bill became the band leader of the GMF Band until retiring of the event in 2021 and celebrating 50 years for that event.
Bill enjoys playing steel regional steel guitar shows and is a staff bass player on the Phoenix and Dallas steel shows.